Open source has become one of the most recognized movements in technology in the last decade. Already 90% of IT leaders use enterprise open source software, and by 2026, the open source services market will be worth $50 billion. Based on the growth It is not surprising that the number of open source projects and businesses based around open source have skyrocketed over the past decade. While open source itself is not a business model, we can clearly identify business models built around open source licensing and philosophies that have proven sustainable, scalable, and profitable. To build an open source business, it is imperative to grow not only the business and the adoption of your software but the community around it. In this guide, we walk you through those challenges and key metrics that you'll want to track in order to get your open source business off the ground and keep it up and running.
Selling open source is very different from classic business models
For years, people have built successful businesses on the idea of exclusivity and differentiation. If you are the sole exclusive manufacturer or distributor of a product, you control the destiny of your product. Consider the automobile industry, for example. Ford builds cars. If you want to buy a Ford, you go to a Ford dealership. Ford uses its channel of dealers to offer you their product. Ford tries to build better cars than its competition, offering distinction exclusive to their brand or their umbrella organizations. They may license the technology to other automotive companies, but Ford controls their technology, the channels for sale, and ultimately holds more control over end-to-end business. Whether you are a car manufacturer or software company selling enterprise software, success is often predicated on having a better, more popular, or some differentiated product.
In the open source industry, your own product is your greatest competition. Users can download software for free without any commitment or even acknowledgment that they are using it. You must be able to differentiate your paid-for offering enough for users to choose it over the free version. Referencing our previous car example, it's as if you could lawfully walk up to a lot, get into a car, and take it home without paying anything or telling anyone you were taking the car. That is how most open source projects operate. A person (group or company) builds software and puts it on the web (or on GitHub) for users to download, use, and modify for free.
Building a customer base from the growing adoption of free users
Although giving away a product may seem counterintuitive from a business perspective, it serves as an effective top-of-funnel strategy for building a loyal, passionate customer base.
Let's go back to the automotive example. The automotive industry makes money from selling a physical good: your car. Building that physical car involves a built-in cost for each unit sold, which needs to be recouped. In this case, building 1 million cars requires a higher manufacturing cost than building 100,000. In the case of software, building a product used by 1 million people is no more or less costly than building software used by 100,000, support costs (or infrastructure for SaaS companies) aside. In other words, the cost of software for 1 million users remains the same as the cost for 100,000, allowing you the freedom and flexibility to explore different models for monetization. For instance, you can establish ways to increase sales among existing users.
You may have heard that acquiring a new customer can be 5x more expensive than selling to your existing customer. Existing users already know your product, they have developed some loyalty to it, and they have a vested interest in contributing to improve the product upon which they rely.
The question comes down to how to convert free users to paying customers, but the answer may appear more straightforward than you realize: Offer a product that is valuable enough to pay for. If your software provides enough enhanced value over the free version, a subset of users will pay for it. This is similar to the freemium strategy deployed in the mobile industry. For example, if 10% of your user base will pay for your enhanced-value software, and you grow your user base from 100,000 to 1 million people (10% of 1 million is more than 10% of 100,000), then you position yourself for commercial opportunity. It's a strategy that existed well before the open source movement in the form of free trials and basic free services.
To be successful with this approach:
Know what your users are willing to pay for
Be able to adjust your product to stay ahead of needs and ahead of the community potentially implementing features
Maintain a steady growth rate of users trying, deploying, and running your software
Improve your conversion rates from free users to paid users
Common open source business models
In the open source space, the upsell can take a few forms. Let's walk through the most common ones.
Open core
Open core is the most classic open source commercialization strategy. It consists of giving away a basic or foundational product for free and only asking people to pay for a more enhanced version of the open source product. This version is typically called the enterprise version and enables greater efficiency as well as additional, more robust features. To illustrate, imagine giving away free cars, but the gas tank of these free cars can only fill up to two gallons at a time. In contrast, if someone pays the full price for the car, that individual can get a full 20 gallons and increase the range from 50 miles on one tank to 500 miles. The open core model operates similarly.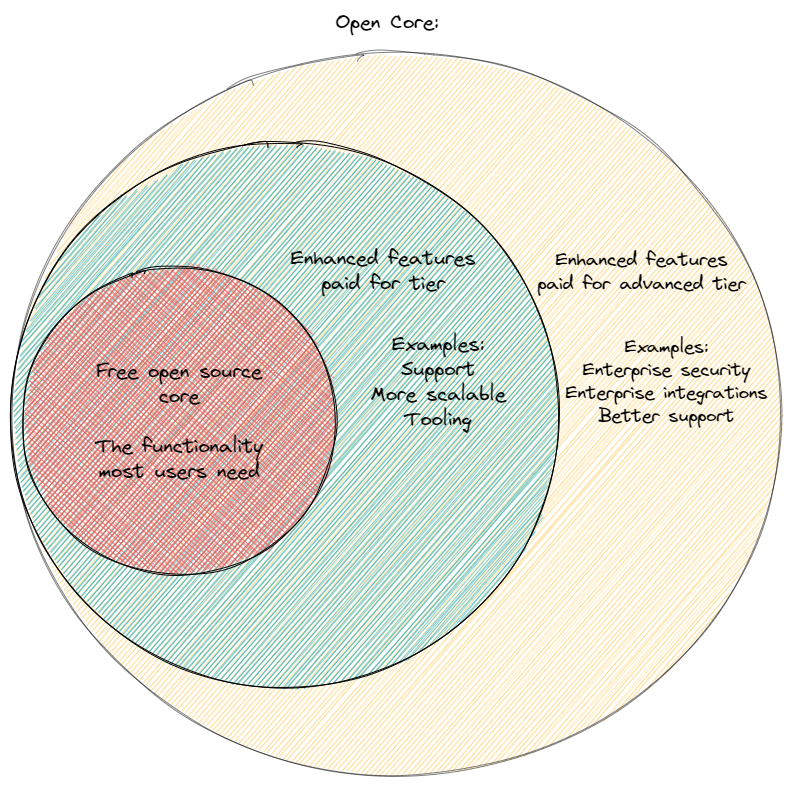 Many companies have started with an open core model. Within this model, the primary differentiator consists of enterprise features, such as encryption, security, and scalability. Larger companies with deeper pockets are more likely to buy a software license and support contract. Another popular open core tactic is to make the server software fully open source but the tooling for easily operating, developing against, or managing it as part of a paid- offering."
Risk of competition from the community presents the biggest challenge with open core. Other companies in the space as well as contributors, will often provide viable alternatives to your enterprise components. In the last five years, we have seen more and more users who feel that open source versions are good enough and refuse to pay for the tooling or features that open core versions offer. They prioritize easy-to-use over high-end features. Consequently, more and more people view the cloud as a better investment.
SaaS/PaaS/XaaS
Over the last five years, X as a service has become the most popular model. It seems that almost all open source companies now run or try to build a cloud or an as a service offering. In this model, you allow people to run the software as open source on their own but then offer a managed cloud offering so that they don't have to manage it for themselves. This is often paired with features exclusive to the cloud space. Going back to the automotive example, it's like an automotive lease. You don't own the car—you lease it. The dealer takes care of most of the maintenance and you can use the car as long as you pay. If you drive more miles than the lease allows, then you pay more.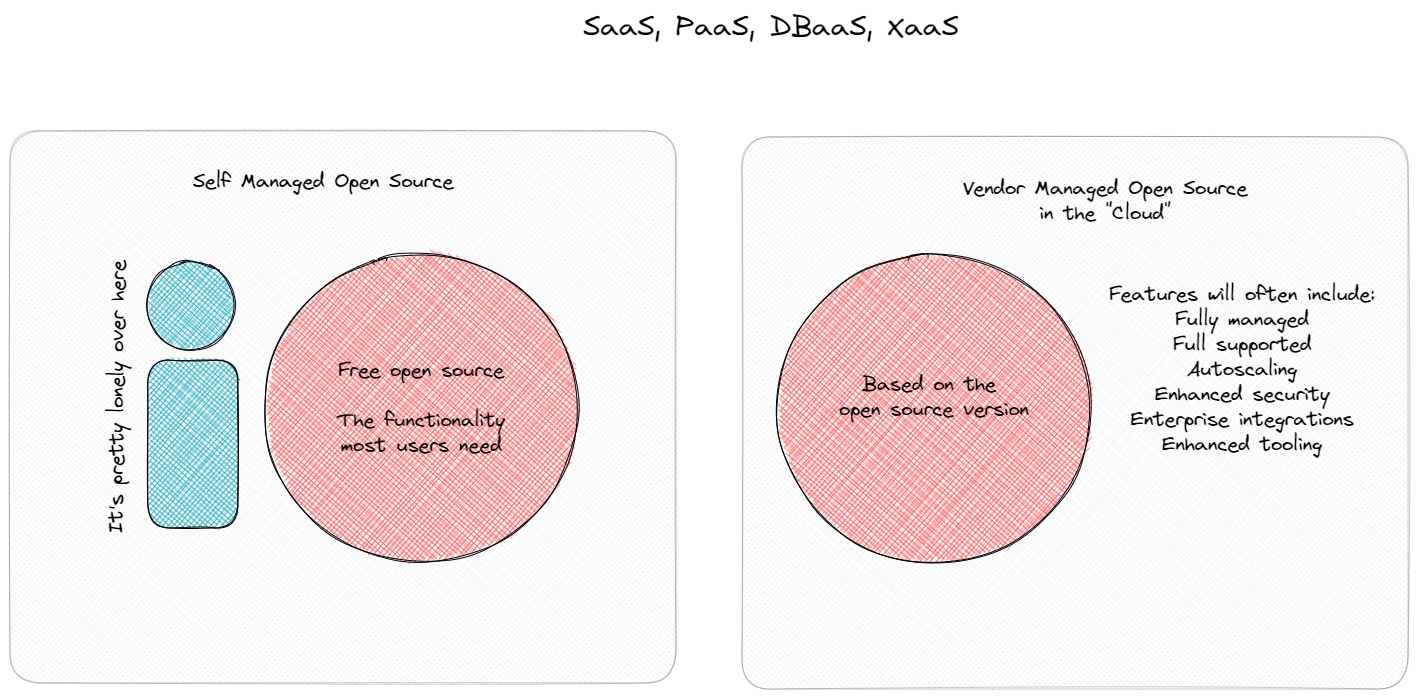 Many open source companies choose this model comes because it provides a higher degree of stickiness or lock-in. They rely on you not only to provide the software but also operate it and make sure it stays running, safe, and updated. In addition, you gain a lot more information on how your users are using your product, which can be used to enhance, improve, and expand your software and offering. Finally, usage data and workload patterns can help identify expansion opportunities as well as stave off churn.
The biggest challenge in the cloud space is that the market is already crowded. Although not all open source software lends itself to a cloud offering, the most widely used infrastructure tools already have versions or similar tools available in most major cloud providers. As a result, you must convince users that your offering provides greater value over the more integrated cloud provider stacks. Users looking for the easy route will choose the path of least resistance.
Support and services
Another classic open source business model is offering support or services. In this model, you anticipate that a percentage of your users will need dedicated help running, setting up, or troubleshooting the software. Going back to our automotive example, this is like an extended warranty plan or a maintenance contract that includes regular oil changes, maintenance, and emergency repairs.
Large enterprises still value a support contract and will often pay a premium for it. Despite the fact that a significant number run their own internal cloud and don't rely on a public cloud, companies are increasingly opting for a managed service or cloud offering that includes support and operational management. For open source businesses, providing services is the easiest starting point for driving revenue.
The biggest barrier with a service-based model is proving your value. Otherwise, customers will not renew their contracts. If a customer pays for insurance but never uses it, the customer will constantly question the value of that expense. This is especially true in the open source space where customers could turn to the community for free support in a time of need. Furthermore, the margin for services is generally very low and not attractive to investors.
The open source funnel
The success of all these models relies on driving people from a free to paid relationship, a journey outlined by the open source funnel.
The open source funnel differs from the classic marketing funnel, which looks something like this:

With the marketing funnel, you want to generate inquiries and grow your digital traffic and engagement so that eventually, those who interact with your site become a lead or contact. After a specific number or set of events, whether it is clicking on a webpage, registering for a webinar, opening up an email, or watching a video, the lead eventually qualifies as a marketing qualified lead (MQL). The MQL becomes a sales accepted lead (SAL) once the lead is ready for the sales team's follow-up and thereafter turns into a sales qualified lead (SQL) once the lead has advanced through the sales pipeline. SQLs will likely become customers and either become lost deals or closed won deals.
In contrast, the open source funnel looks something like this: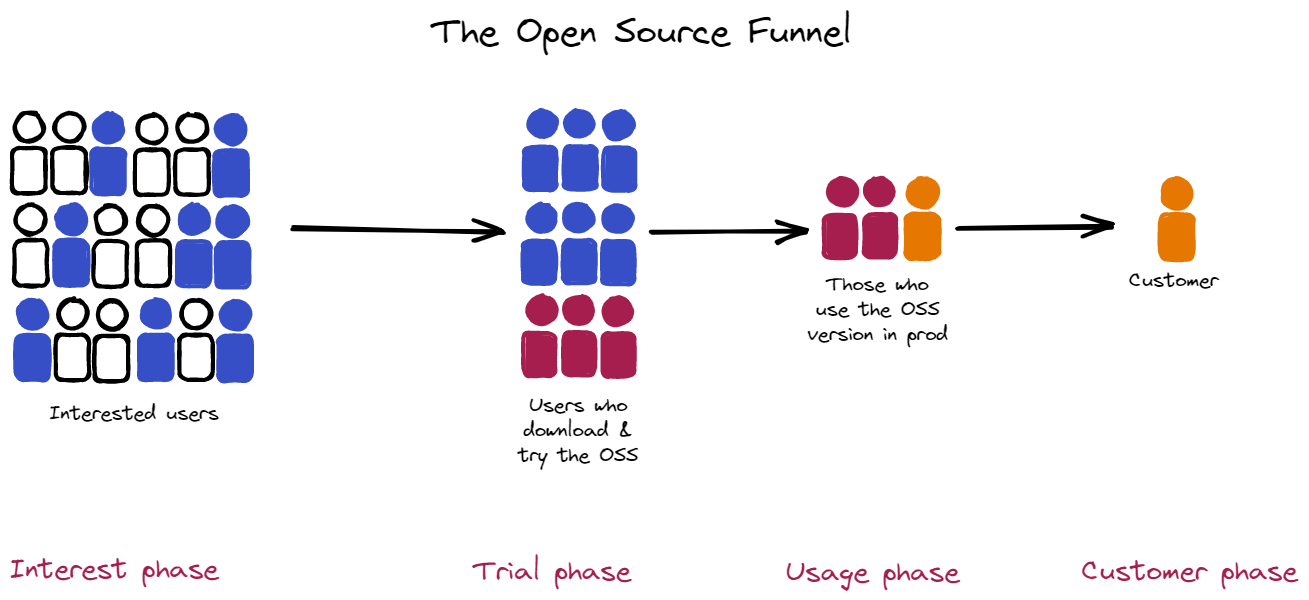 With more interest comes more downloads, and with more downloads comes more production deployments as well as more users who are willing to pay for something of value. Naturally, dropoff will occur at each stage. Nonetheless, open source provides the advantage of a larger-than-normal pool in the initial interest phase, which can very nicely set up the rest of the funnel for maximal conversion.
In companies focused on product-led growth, you may be more familiar with using the growth flywheel: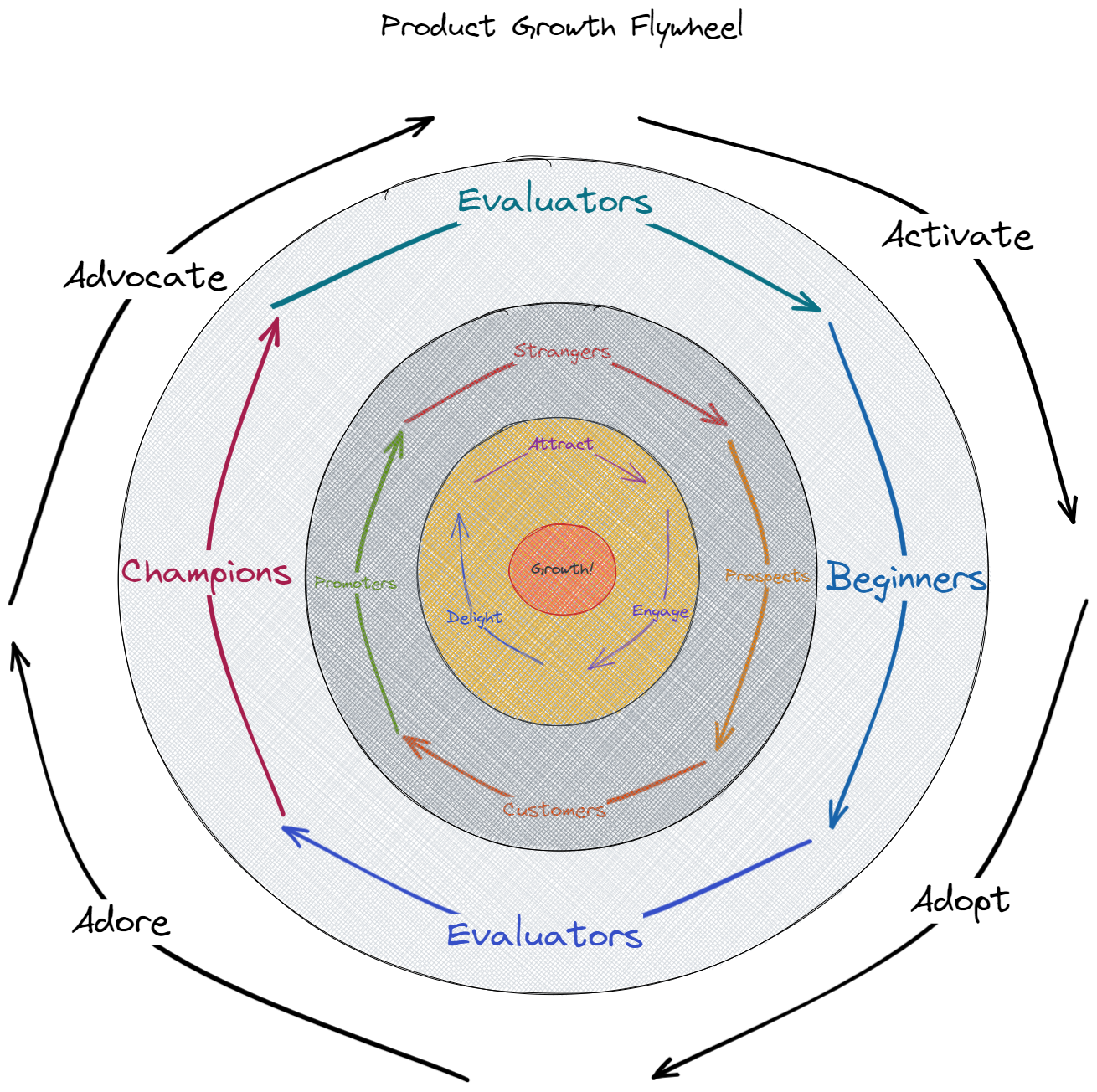 In this setup, evaluators are those reviewing your project and downloading it. Beginners are those using it in production. Regulars are those willing to pay. Champions are fans of you and the open source project.
The flywheel can also be applied to open source companies, as represented below: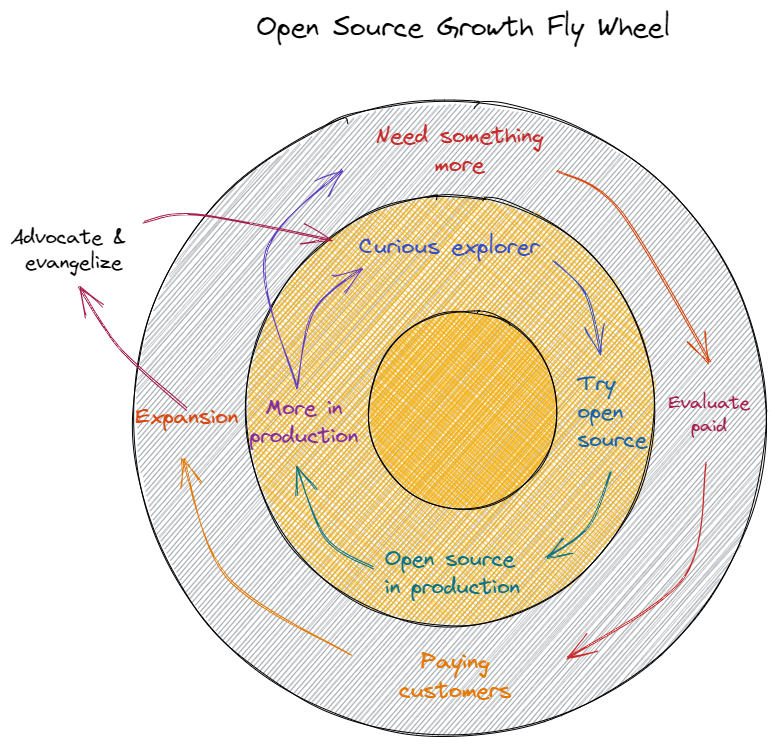 You still attract people to your open source project, engage with them, and generate interest, but that interest causes them to try your open source project first for a non-production workload (e.g., a small trial application or just trying to build something on a laptop ). The goal is to make that experimental experience so exceptional that it makes them want to move a production workload to the software or build new applications with the software. The more comfort a user gains with the project, the more applications that they will want to deploy and the more they will want to use your software in production. Note: It may prove easier to create advocates and evangelists from your free users than it may be to create paying customers.
At this point, two goals emerge: First, you want them to share their experiences with others to propel further interest in the project and help you grow your potential user base. Second, once they rely on your software for mission-critical applications, you want them to recognize the value of and experiment with your enterprise offering. In this way, they enter into a similar cycle of trying the software or service and eventually moving into production.
Whether you're looking at the flywheel or open source funnel, more users trying your open source software is always better. This is why many companies prioritize acquiring the largest open source install base possible first and foremost. With millions of users, you can eventually image out how to monetize the user base even if your customer base is relatively small now. In fact, this philosophy of growth at all costs has dominated much of the industry over the last five years.
Since the beginning of 2022, the shift in economic climate has caused companies to reevaluate their plans. Efficiency and a faster path toward profitability have replaced the growth-at-all-costs mentality, leading to more emphasis on conversion rates and customer acquisition costs (CAC). The switch from gaining more users to growing the right users has made messaging, positioning, and targeting specific personas vital for growth.
Efficiency, renewal, expansion, and growth
Gaining massive year-over-year growth for your open source project is easier starting out than after you have an established project. It is not uncommon to see projects and companies grow 4–5x year over year. As a project reaches market saturation, growth gradually tapers off and the focus turns to feature set and functionality expansion so that you can jump into new markets (for instance, a NoSQL database focused on documents adding transactional and relational workloads.
As the company matures, you want to expand the usage of existing customers and leverage the hard work of having already acquired them. In fact, many larger organizations plan for 125% net retention from their customer base (simply check out the annual or quarterly earnings reports from some of your favorite open source companies). Effectively, these companies expect $1.00 of revenue from customers this year to deliver $1.25 next year. They achieve this only by reducing churn and expanding the usage of products within existing customers. Regardless of your business model, continued success requires you to build natural pathways for expansion.
The importance of growth for commercial success
An increasing number of open source projects are becoming commercially viable. Companies looking to scale these projects must rely on growth metrics for a variety of reasons. First, investors seek indicators that projects will deliver a good return on their investment. A growing user base indicates a growing potential customer base. Second, understanding the potential customer pool is vital to understanding how to build and structure your business. With growth comes new opportunities to expand the project, enhance the feature set, and pull in more contributors, users, and eventually customers, who augment the use cases of your project, bring fresh ideas, and provide vital feedback. Finally, the right set of growth metrics also provides insight into what is not working and what adjustments need to be made.
The challenge of tracking adoption and usage
When we talk about growing an open source project, we often refer to growing its adoption and usage. A burgeoning user base yields a cascading impact on the rest of the project, often leading to more contributors, more community engagement, more funding opportunities, more potential sales, and more downstream effects. Tracking adoption, however, in the open source space is difficult. Ideally, you would be able to count the actual number of people using your software, but in reality, that is not an option—users value their privacy, downloads come from third-party repositories, people build from source code, and software with baked-in telemetry is commonly frowned upon. In an effort to try and understand the adoption cycle, you are usually left examining a series of metrics that reflect and indicate interest, awareness, adoption, and contributions but that don't fully match true usage.
Why can't you track running instances?
Tracking running instances requires telemetry built into your software that calls home and sends some data packets back. Although a number of users are willing to provide this level of data, many are concerned over how the level of tracking and overall implementation of such a system affects their privacy. The open source companies that have implemented built-in telemetry (or at least tried to) have experienced varying degrees of success, including community backlash, which in some cases have diminished the user base.
In fact our experience is that even when the data collected by two different entities are entirely identical, people are sensitive to how the data is collected. Scarf saw that end users were actually more comfortable with completely silent pixel tracking than they were with phone home mechanisms in NPM packages (despite it being a subset of what NPM was already collecting).
This begs the question of how you would not only come to understand who is using your software but also how they are using it three, six, to 12 months after installation and even continuously, if possible, without compromising trust.
What about the cloud?
The cloud to some degree can provide a way around this. When people sign up for a cloud-based service they provide their information and grant you authorization both to run the software for them and access more granular metrics on their usage. As a result, you can gain a detailed understanding of their needs. That said, most open source software falls outside of the cloud space. Most cloud providers who provide open source as a service offer the commercialized version of what is already downloadable and installable without a commercial agreement. Still, a large portion of the user base exists that will try out the open source software on their own either via downloaded packages, containers, or building from source. What about getting adoption and usage details for those users?
Conclusion
Not every department or team will value all of the above metrics the same, but these metrics as a whole do track the various stages of the user and customer lifecycle. Based on these metrics, you can gauge the overall interest in an open source project and determine if your decisions result in further adoption. Marketing and sales can ensure a growing funnel and close more deals. VC firms can evaluate business performance and receive assurance that their investments produce promising ROI. What is more, you can use the insights to improve your product and better satisfy the needs of your target audience.
Even though open source has existed for a while, the playbook for open source done right is still in the making and ever evolving. Despite three major models repeatedly emerging in the space, there truly is no traditional path for the open source business. Yet the need to account for growth, as with any company, still applies.
Measuring the interest, adoption, and growth of open source projects extends beyond just contributors. It is important to triangulate key metrics within each stage of the open source funnel to draw meaningful analysis and conclusions that can help you understand how users are progressing through the customer journey. One of the many beauties of open source is that it provides a broad user base by opening up the technology to anyone and everyone who takes interest thanks to virtually no financial barrier to entry, or any barrier at all! To that end, if you can appeal to loyal existing users and find a way to both monetize and augment their usage, the possibilities could be exceedingly beneficial and worth billions of dollars. Open source creators plus data-driven insights make for a powerful combination.
Understandably, setting up the metrics essential to achieving this can feel cumbersome and time consuming. If you are serious about sustaining the growth of your open source business and want help with measuring the metrics discussed in this paper and more, you can check out Scarf and learn about package SDKs, Scarf Gateway, documentation insights, and open source support. The tools created by Scarf make it easy to track downloads as well as gain visibility into the user lifecycle.
Get started with Scarf today or feel free to contact us if you have any questions.